Who is behind Video Judge®?
Video Judge® was developed by DRC Video Productions in 2005 as the first DVD adjudication system for dance competitions. Through the development of customized software, captured videos could finally be synchronized with each of the judges' comments and provided to each studio as an online teaching tool.
What Is Video Judge®?
Now online the day following the competition!
Video Judge® is the original and premiere adjudication solution where a dancer or teacher can watch their performance and listen to the judges' comments at the same time!
With its launch in 2006, Video Judge® marked the end of hundreds of cassette tapes and CDs with adjudicator comments, replacing them with a single DVD. In 2013, Video Judge® took the next logical step in its development by also offering Video Judge® Online the day following the competition – with viewing optimized for mobile phones, tablets and computers.
Video Judge® is a proprietary, state-of-the-art video and audio recording system. Multiple audio tracks coupled with a powerful menu system allow teachers and students to listen to the judges' comments while viewing the actual performance.
Where Can I Experience Video Judge®?
Video Judge® can be found at over 1000 events across the world, at competitions hosted by scores of different companies and organizations. Have a look at our most up-to-date list below.
Why Should I Offer Video Judge® At My Event?
Eliminate outdated analog recording devices
Eliminate the need to purchase thousands of cassette tapes or CDs
Simplify your judges' tasks by allowing them to focus solely on adjudications
Provide your customers with the finest teaching tool in the industry
Eliminate a staff position – Video Judge comes with its own operator
Differentiate yourself from other competitions
Retain a high-quality archival copy of every entry at your competition at no extra charge
Your participating studios retain an online collection of all of their dances tied directly to your brand
Why Should I Attend Competitions Offering Video Judge®?
Watch your dances and hear the judges' comments at the same time
Enjoy a faster and higher quality educational tool
Receive a video collection of all of your students' performances for your archives
Show your students exactly what the judges are referring to with their comments
Our Products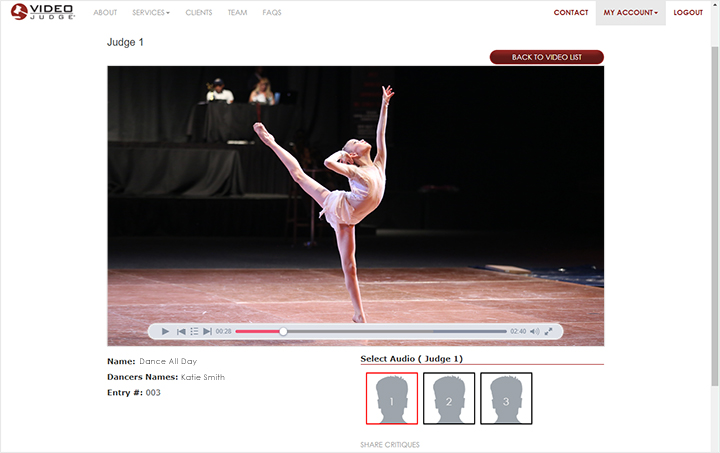 How Can I Bring Video Judge® To My Competition?